Xsel – Powered by NIIT is an engaging, mobile-enabled, lifelong learning platform exclusively designed for real estate professionals. A powerful, affordable, cloud based solution dedicated to the training needs of brokerages.
Xsel's one of a kind AI powered analytics engine allows brokerages to truly link learning with performance. Built on robust, cutting-edge technology this platform enables ultra personalized learning journeys to meet every learning need from onboarding to compliance and upskilling.
NIIT Canada's extensive experience in real estate training comes from being the exclusive designate for the Real Estate Education program for RECO and developing cutting edge and modern curriculum and platform dedicated to this industry.
Xsel was conceptualized by NIIT based on extensive research and conversations with Canada's leading brokerage owners to address the learning needs of brokerages. Designed as an ALL IN ONE TRAINING ECOSYSTEM FOR BROKERAGES AND AGENTS Xsel is the only platform that links an agents' performance to learning.
With Xsel's powerful learning capabilities brokerages can elevate engagement, maximize performance, enhance recruitment and amplify retainment.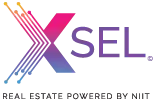 Toronto, Ontario | Beanfield Centre + Hotel X